It is a good idea to set your ideal browser like chrome as your default browser. Any link you click will then open in that specific browser, which will make navigation much simpler.
Although Google Chrome is a fantastic browser, many users have complained that they are unable to set Chrome as their default browser. You must choose the appropriate option when Chrome launches to resolve this problem.

How to make google chrome as your default browser in your PC, Laptop or Computer. (Windows 10,11)
Click on START to open menu
After that, click the Apps
Then, Select default Apps and here you can select Chrome as default browser
Done!
Here are some of the proven ways in which you can make Chrome to become your default browser or search engine:
1. When You Install It, Set It To The Default Setting.
You will be prompted to choose whether to make Chrome your default browser after downloading and installing it for the first time. Select "yes" when it does.
If you didn't take advantage of that opportunity, you will be prompted to make Chrome your default browser whenever you open a Chrome tab.
This is the most common and simplest technique, but if you are unable to set Chrome as your default browser, give alternative options a shot.
2. Reset Default App Settings on your computer.
Hold Windows and I together to open Settings on your device.
Click Reset when you reach the area that says "Reset all default apps" after scrolling down.
Once you've finished, use one of the aforementioned techniques to make Chrome your default browser and check to see whether it now functions.
3. Select Settings By Pressing Windows And I Simultaneously On Your Computer.
Then, enter Chrome into the search field and select the resulting link.
Click the Set default button to finish.
You can make a variety of programs your computer's default applications by employing this technique.
4. Update Chrome.
Launch the browser and select the three-dot menu to continue.
After that, wait to see if Chrome is up to date with the most recent version or if you need to update it by clicking on About Chrome from the left side menu.
If it is out of date, a button to update it will show up.
5. Use The Browser Settings For Chrome.
Launch Chrome, then select the three dots menu.
After that, click the Make default button on the right after clicking Default browser on the left.
You can set Google Chrome as your default search engine by carrying out each of these procedures.
If Google Chrome is unable to establish or determine the default browser, this approach may be useful. All external URLs that are clicked after completing these instructions will launch Chrome.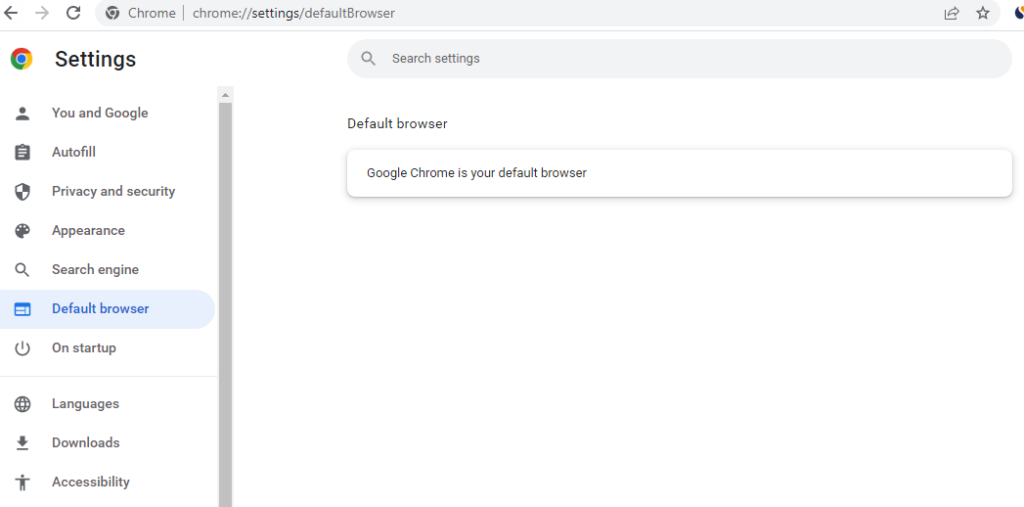 Questions and Answers
How can I set Chrome to be the default browser on an Android Phone?
Click Notifications & Apps.
Tap Advanced at the bottom.
Select Default applications.
Click Chrome first in the browser app.
How can I set Chrome to be the default browser if I am using an iOS device?
Make sure Google Chrome is downloaded to and set up on your iPhone or iPad.
Then select Settings by tapping More.
Click on Default browser.
Then click Open Chrome settings.
Make Chrome your default web browser.
You need iOS 14 or later to set Chrome as your iPhone or iPad's default browser.
You might need to upgrade to the most recent Chrome version if you can't locate the option of changing your default search engine.
Can I Use Microsoft Edge And Chrome On My Device Interchangeably?
Google Chrome and Microsoft Edge don't clash, especially if Chrome is selected as the default browser on your computer.
Can Chrome be installed on Windows 10?
Google Chrome does function flawlessly with Windows 10. Check out the Chrome installation guide to install Chrome on Windows 10.
How can I include Chrome in my dock?
Add Chrome to your dock to make opening it later simple:
Touch & hold an app on your dock to make room for it.
On your home screen, drag the app up and then let go of it.
The Chrome app should be touched and held.
Release the Chrome program from your dock by dragging it downward.
Does Chrome come pre-installed on Windows 10?
Microsoft Edge is the default search engine on Windows 10, but you may quickly switch to Chrome and any other browser.
What Are The Reasons Why I Cannot Set Chrome To Be My Default Internet Search Engine?
You would have been unable to set Chrome as the default search engine for several reasons, but the most frequent is because Chrome's installation ran into a glitch. Your operating system's inability to recognize Chrome's installation is another typical reason.
How is Google Chrome Reset?
It only takes a few clicks to restart Google Chrome; simply navigate to Chrome Settings > Advanced and select the Reset option.
How to set google as default browser?
Just follow the all above steps and you will get the solution.